Welcome to Willimantic!
Come for dinner, visit friends, dance to the music, and enjoy the beautiful historic architecture.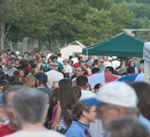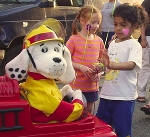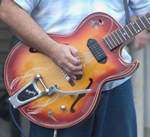 Looks like it's clearing up. Come out and play
---
New food vendors in July!
We don't cancel the Fests with a threat of thunderstorms or chance of rain, because in the summer months that is a daily forecast. We will cancel with 80% chance or better of rain, or extremely high winds. Look for cancellations on the website, FaceBook, listen to WILI AM, or check our answering machine: 860.450.0918
Come for dinner,
visit friends,
dance to the music,


and enjoy the beautiful architecture.
Every 3rd Thursday from May through September, thousands of people from far and wide stroll along Main Street Willimantic amid a background of musical, theatrical, visual and olfactory delights.
There are bands and jugglers to entertain you as you meander through the fest. Five stages simultaneously host a wide variety of music and entertainment while over 100 local and regional crafters and vendors showcase the wealth of goods produced in Connecticut. Willimantic's diversity really shines through in the delicious authentic international cuisine. Enjoy locally produced artwork, beer, music, and soda. Free children's activities abound!

Brought to you by Willimantic Renaissance, Inc., a grassroots 501(c)3 non-profit organization formed to revitalize downtown Willimantic by celebrating diversity, building community and attracting consumers. 3rd Thursday Street Fests are truly a community event.
Free Parking Free Admission 6 - 9pm
Thank you to all our volunteers, it can't happen without you. Please be sure to thank our generous Sponsors for their support. Would you like to be a Sponsor or a Friend? Without your help the Fests would not be possible.


If you would like to work with the 3rd Thursday Street Fest team as a volunteer or fest helper, please view our Employment page.
Buy a button at our Information Booth to support the Fests and to save 20% at the Beer & Wine Garden all season long!