Volunteers
Although it looks like the fest 'just happens' every 3rd Thursday, it actually takes year-round planning and organizing as well as the help of numerious volunteers. Here are some of the folks without whose volunteer efforts the fest would not be possible!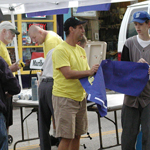 Thank you to all of our wonderful volunteers who help make the fest happen every season!
If you want to join the fun please email us at Info@willimanticstreetfest.com
Volunteers
ACT Students
Paul Anderson
Paul Ashton
Ray Axelrod
John and Elisha Benson
Rick Brosseau
Millie Brosseau
Marcos Cardona
Tad Church
Christian Clark
Winston Coleman
Kathy Cyr
Michael Culbertson
Jean de Smet
Joshua Enders
Mae Flexer
Karen Gilbransen
GROW Windham
Bob Hackemack
Michael Heon
Kristina Locke
John Luckey
Ian Luckey
Adrienne Martineau
Annastasia Martineau
Cassandra Martineau
Roger Manning
Tom Markland
Luiz Martin
Margo Meley
Lourdes Montalvo
Erin Morelle
Bob Mott
Next Step
Susan Oldershaw
Liz Ostwald
Norman Peloquin
Perception Programs
Devin Reese
Dency Sargent
Maya Shieber
Kristin Smith
Darlene Spinnato
Greg Spinnato
Brendan Spinnato
George Spurlock
Gregory Todd
Carl Twerdy
Susan Wuthenow
Willibrew Float Crew
Willimantic Food Coop Crew
Duke York
Paul Zocco
Thank you again to all of our wonderful volunteers who help make the fest happen each year!