Welcome to Willimantic!
Come for dinner, visit friends, dance to the music at multiple stages, shop many wonderful vendors and merchants, and enjoy the beautiful historic architecture.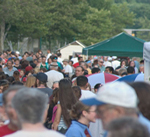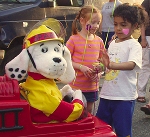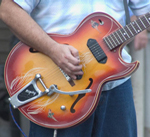 Dear Sponsors, Vendors, Entertainers, and Friends:
Willimantic Renaissance and the 3rd Thursday Street Fest would love to invite you to register early for the 3rd Thursday Street Fest for 2023. We curate all of our vendors so get in early for a great spot in this year's festivities.
The Romantic Willimantic Chocolate Festival
will take place on February 11th, 2023. Please contact us for more information or follow on facebook!
THREAD CITY HOP FEST (21+)
will take place this year on May 21st, 2023. We will announce when tickets become available. This sells out every year and is a ton of great fun for the community as we donate proceeds to non-profits in our area!
Thousands of people from far and wide will stroll along Main Street in Willimantic amid a background of musical, theatrical, visual, and olfactory delights.
There are bands and jugglers to entertain you as you meander through the fest. Five stages simultaneously host a wide variety of music and entertainment while over 100 local and regional crafters and vendors showcase the wealth of goods produced in Connecticut. Willimantic's diversity really shines through in the delicious authentic international cuisine. Enjoy locally produced artwork, beer, music, and soda. Free children's activities abound!

Brought to you by Willimantic Renaissance, Inc., a grassroots 501(c)3 non-profit organization formed to revitalize downtown Willimantic by celebrating diversity, building community and attracting consumers. 3rd Thursday Street Fests are truly a community event.
Free Parking Free Admission 6 - 9pm
Thank you to all our volunteers, it can't happen without you. Please be sure to thank our generous Sponsors for their support. Would you like to be a Sponsor or a Friend? Without your help the Fests would not be possible.


If you would like to work with the 3rd Thursday Street Fest team as a volunteer or fest helper, please view our Employment page.